United Way Community Impact Fund RFP - Closed, will open in March 2024
United Way of Genesee County is now accepting applications for our Community Impact Fund. In an effort to improve lives in our community, UWGC invests donor gifts in exceptional programs that make measurable progress. The UWGC provides funding to more than 150 organizations through a variety of funds and programs. This application is specific to the Community Impact Fund. This application is specific to the Community Impact Fund. The Community Impact Fund will award $1.4 million to organizations across both focus areas - Set to Learn and Basic Needs.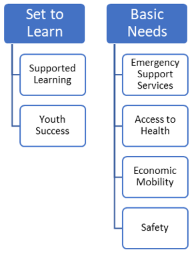 UWGC funds high-quality programs through systematic Community Impact Grants. Grants are provided through a competitive and transparent allocation process that is open to all nonprofit organizations that meet eligibility criteria. Only one application per focus area will be accepted. Applications will be accepted until 5:00pm on April 10, 2023.
Genesee County Applications
Basic Needs
Set to Learn
Shiawassee County Application
Eligibility:
The following requirements must be met to be eligible to receive funding through the Community Impact Grants Process:
The organization must be a 501(c)(3) in good standing with the State of Michigan Nonprofit Corporation Act and IRS rules for Charitable Organizations, or a governmental entity. 
The organization must be established for more than 3 years at time of submission.
The proposed program must provide services to clients residing within Genesee or Shiawassee County.
The United Way does not fund capital improvements or campaigns, arts, environmental or mental health programs. 
UWGC values programs that are non-duplicative, emphasize collaboration, are large in scale, promote an equitable society and leverage dollars from other donors. 
 
---
Emergency Food and Shelter Program - Currently Closed until mid-2023
United Way of Genesee County manages FEMA's Emergency Food and Shelter program for Genesee, Shiawassee and Lapeer Counties. Agencies providing emergency food, shelter and energy assistance to Genesee and Lapeer County residents are invited to apply for the federal grant administered locally by the United Way of Genesee County through the Emergency Food and Shelter Local Board Program. Program funds may be used to provide clients with meals or groceries, shelter, rent or utility bill support. A request for proposals is annually released during the first quarter with the next being 2023.
---
Community Impact Cabinet
The Cabinet reviews proposals, making recommendations for funding to the United Way Board of Directors, and monitors awarded projects' progress.
The members of the Genesee County Community Impact Cabinet are:
Jane Worthing
Genesee Packaging
(Chair and United Way board member)
 
Kyle Canada
Randy Wise Automotive
Adriano Donastorg
Financial Services
Lori Mudge
Rowe Professional Services
Deana Turcott
Dort Financial Credit Union
DeAnna Wallace
Financial Plus Credit Union
The members of the Shiawassee County Community Impact Cabinet are:
Jeff Apsey
MI-AFSCME Council 25
(Chair and United Way board member)
Justin Horvath
Shiawassee Economic Development Partnership
Mindy Zofchak
Huntington National Bank
For questions related to the United Way's Community Impact Grants process in Genesee or Shiawassee Counties, please contact Jamie-Lee Venable, Vice President of Operations, at jvenable@unitedwaygenesee.org  or 810-762-5826.