Committed to Helping Kids Learn 
Education is the cornerstone of individual and community success. Youth only spend 20% of their lives in school, making learning that continues outside the classroom vital to their success. At the United Way of Genesee County, we create IMPACT through partnership with early education and youth organizations to ensure our students have access to high quality enrichment programs. 
Community Condition
We know that even before the pandemic, unequal access to high quality education had created an achievement gap. COVID has only widened the gap, with millions of children losing ground after nearly two years of mostly virtual learning. 
49% of children in Genesee County did not attend preschool in 2021.

58% of 3rd graders in Genesee County were not reading at grade level in 2021. 
UWGC Creating Impact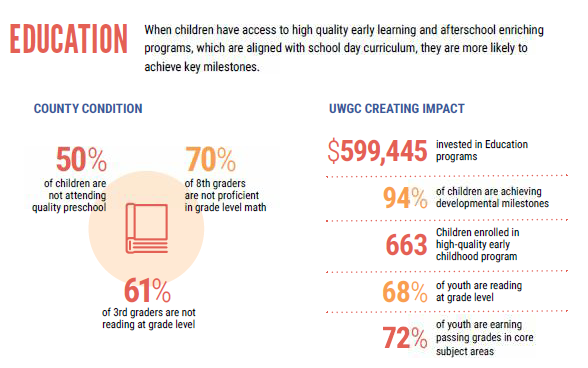 2021-2022 Community Impact Grantees:
Big Brothers Big Sisters of Flint and Genesee County (Community-Based Mentoring)

Boys & Girls Clubs of Greater Flint (Greater Futures Start Here)

Boy Scouts, Michigan Crossroads Council (Urban Scouting)

Crim Fitness Foundation (Community Education)

Friends of Berston (Omega Lamplighters Club of Flint)

Fenton Area Public Schools (JumpStart Parent-Child Programs)

Genesee Area Focus Fund (TeenQuest/YouthQuest)

Girl Scouts of Southeastern Michigan (Uniquely Me! at Shelter of Flint and YWCA)

Grand Blanc Community Schools (2 Family Connections Parent Educator)

Lake Fenton Schools (Project READ!)

Linden Community Schools (Play TOGETHER/Learn TOGETHER)

Mt. Morris Consolidated Schools (Enhancing Student Learning) 

Shelter of Flint, Inc. (Caterpillar Clubhouse)

YMCA of Flint (Y Safe Places)
UWGC Education Programs
A to Z Learn with Me!
In 2014 the United Way of Genesee County launched A to Z Learn with Me! A partnership with Genesys Health Systems, Hurley Medical Center and McLaren Flint, A to Z Learn with Me! ensures every baby leaves the maternity ward with the materials they need to start their love for learning early! This year alone, the United Way plans to distribute 6,000 books and child development materials to Genesee County's newest residents and their parents. 
Community Development Block Grants
With Community Development Block Grant dollars, the UWGC provides grants to small neighborhood organizations providing recreational activities to underserved City of Flint children.