United Way Works to Meet the Basic Needs of All
When your friends and neighbors are not agonizing over how to make rent or where their next meal will come from, the community flourishes. When children are not living in constant fear of being abused, they can accomplish extraordinary things. 
Community Conditions:
30% of children live in high poverty neighborhoods
60% of residents in shelter are children
58% of children are eligible for free or reduced priced lunch
2,020 Confirmed child abuse and/or neglect cases in 2019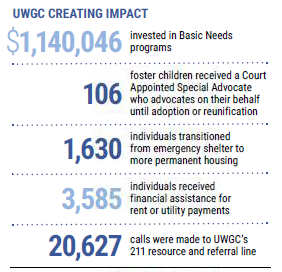 2021/2022 Impact Grants:
American Red Cross of East Central Bay - Michigan (Disaster Cycle Services)
Catholic Charities of Shiawassee and Genesee Counties (Center for Hope)
Clio Area Focus Fund (Emergency Services)
Franklin Avenue Mission (Emergency Feeding)
Genesee County Habitat for Humanity (Homeowner Occupied Repair Program)
Genesee County Youth Corporation (Homeless Street Outreach) 
Metro Community Development (HMIS)
My Brothers Keeper (Emergency Shelter)
Shelter of Flint, Inc. (Emergency Shelter) 
Voices for Children Advocacy Center (Court Appointed Special Advocates)
YWCA of Greater Flint (Safe House) 
Food Bank of Eastern Michigan (Small Pantry Grants)
 
Our Programs
2-1-1
2-1-1 is a free, confidential service that connects you with local community-based organizations across the state offering thousands of different programs and services for people seeking help. Last year, more than 23,000 Genesee County residents turned to 2-1-1 for health and human service information and referrals -- and the numbers continue to grow.
If you need help for yourself, a neighbor or a loved one, dial 2-1-1 from any phone or search the 2-1-1 website to find out where to get help. 2-1-1 has information on more than 30,000 different statewide programs and services across the state. The United Way of Genesee County is the sole funder of Genesee County's 2-1-1 system.
Emergency Food and Shelter Program
Agencies providing emergency food, shelter and energy assistance to Genesee, Shiawassee and Lapeer County residents are invited to apply for a federal grant administered locally by the United Way of Genesee County through the Emergency Food and Shelter Local Board Program. Program funds may be used to provide clients with meals or groceries, shelter, rent or utility bill support. A request for proposals is annually released during the first quarter. For more information on this program contact Janet Cotton via email to jcotton@unitedwaygenesee.org.
Handicap Ramp
Since the mid-1980s, UAW/GM volunteers and United Way respond to requests from disabled and elderly citizens who need wheelchair accessibility for their home. Because of the skill and generosity of dedicated UAW members, the Ramp Program volunteers make it possible for relatives, friends and neighbors to go to doctor appointments, church, run errands, visit friends and relatives, and have an active lifestyle.  For more information on the Handicapped Ramp Program contact Teresa McGinnis at 810-762-5831 or via email to uawlaborliaison@unitedwaygenesee.org.
Bone Marrow
The Bone Marrow Program began in 1992 to recruit life-saving volunteer donors to the National Marrow Donor Program (NMDP). Since this partnership began, over 17,000 donors from our community have been added to the NMDP registry and approximately 55 volunteers have donated their bone marrow to patients in need of a transplant. Over $90,000 has been raised to support this life-saving program. For more information on the Bone Marrow Program contact Teresa McGinnis at 810-762-5831 or via email to uawlaborliaison@unitedwaygenesee.org.
Yarns of Love
A United Way-AFL-CIO program, Yarns of Love has assisted well over 3,000 children from infant to high school age throughout Genesee County by providing them with handmade or newly purchased winter hats, scarves, mittens, gloves, baby blankets and sweaters. These items have been generously donated by compassionate, caring, generous and talented individuals, Senior Center groups, Women's groups, small and large businesses and other community entities. Parents throughout the Genesee County Community have been overwhelmed with emotion and gratitude for the compassion shown through these much needed winter items given to their children. One child cold, is one child too many. For more Yarns of Love information contact Jessie Cloman via email to jcloman@unitedwaygenesee.org.